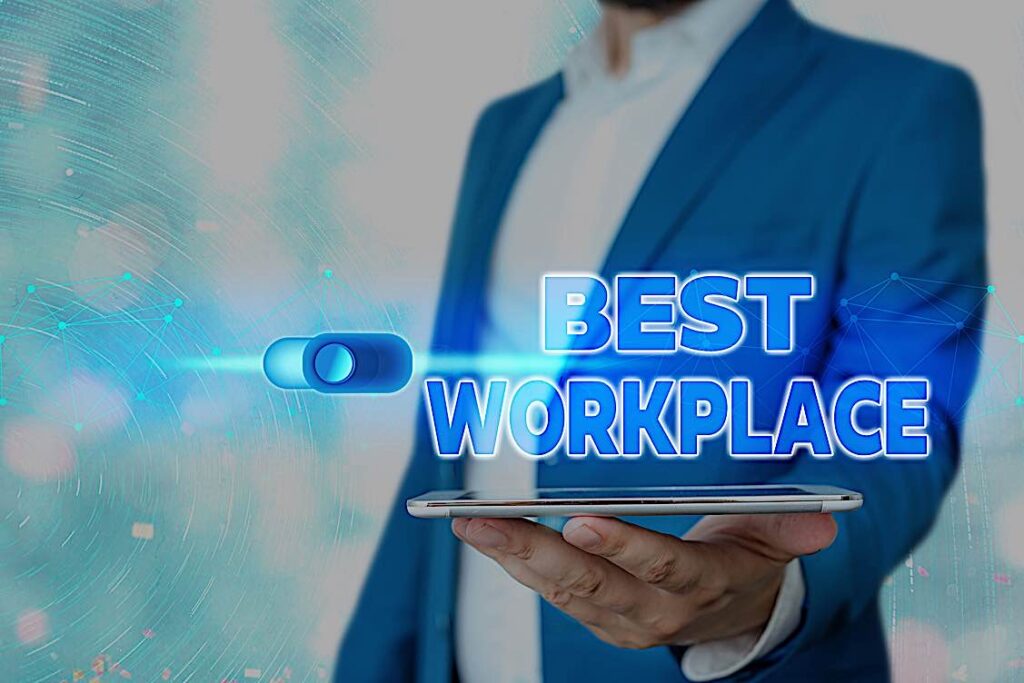 Best workplaces survey: what made them "best" in 2022 and 10 actionable tactics to help compete with them in 2023
The labor shortage precipitated by various economic factors in 2022 and continuing into 2023 made companies more active and focused on retaining and attracting top talent.
What were the best-rated places to work in 2022 (according to an HRReporter report)? In this competitive scenario, what can employers do to proactively retain, compete and attract the most effective employees in 2023? As the war for talent continues, it's essential to consider what factors contribute to a great company culture.
Looking at the "best places to work" can provide insights into what qualities enable these companies to foster a strong culture and attract the best employees.
We list ten specific, actionable steps to move your workplace into the "best" for 2023 — and attract more valuable talent — as suggested by the report on the best places to work 2022. These include company values, employee benefits and perks, work-life balance, and career development opportunities. We will also explore how you can use that information to help your organization thrive in the coming years.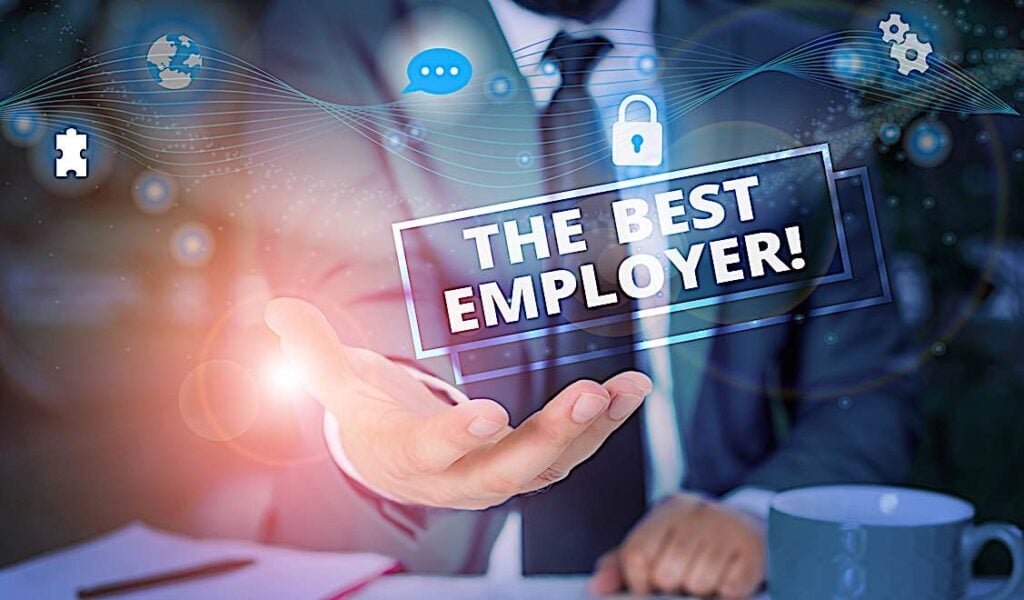 Best Places to Work in 2022
First, let's look at the results of a recent survey by HRReporter, which examined the top companies to work for in 2022. [1] The report took both employer submissions and employee survey results into account to determine the list, which includes some of today's top brands. Employers looked at critical aspects such as turnover rate and employee engagement, while employees voted on the most vital elements.
Companies were separated into four categories depending on their size (i.e., the number of employees). Here are the top companies in each category:
Top employers: 501+ employees
Canadian Appliance Source
Microsoft Canada
Purdys Chocolatier
Top employers: 101–500 employees
Centurion Asset Management
Coast Mental Health
MAD Elevator
McLeod Law LLP
Silvera for Seniors
Town of Innisfil
Top employers: 26–100 employees
CCDI Consulting
Canola Council of Canada
Carbert Waite LLP
Conwest Developments
Omron Canada
PACE Consulting Benefits & Pensions
Signode Canada
Xeva Mortgage
Top employers: 10–25 employees
Citadel Mortgages
HORN Sales & Leadership Development
Inspired HR
Next Wave Insurance Canada

What Makes These Positions Desirable to Employees?
According to the survey, several factors contribute to an attractive workplace. The report in HR Reporter analyzed valuable insights on what drives employees and helps companies build a culture that fosters productivity, engagement, and retention.
We've itemized 10 actionable items under four main categories:
Compensation
With the global economy's uncertainty, many employees' first priority is ensuring their financial security. This means that salary and benefits are still the main drivers of satisfaction at work, even in times of crisis.
1. Base salary & raises
Top employers look for ways to increase their employees' base salaries and offer regular raises to remain competitive. The Willis Towers Watson study found that 86% of employers hire employees at the higher end of salary ranges. [2] Offering the lower end with promises of raises in the future isn't enough anymore.
Canadian Appliance Source takes it upon itself to monitor these salary ranges. Every quarter, they review the market data in their industry to remain competitive. They consider the cost of living, regional differences, and even the skills level of their employees when determining pay ranges.
2. Stock Options
Another way to motivate employees is through stock options. This provides a tangible connection between employee and company success, as the value of the stock options increases with earnings or share prices. Teresa Duke, a people, culture, talent acquisition, and learning consultant in Vancouver, supports this claim:
"Even questions around stock options have become more sophisticated, which has been fascinating to see because many stock options of companies that are about mid-size might have taken a different outlook than they did perhaps nine months ago."
Work Flexibility
The next priority employers should look at is flexibility in the workplace. According to Willis Towers Watson, 84% of respondents are actively increasing flexible work arrangements. Flexibility is a vague term, but it encompasses various perks. These include:
3. Work from home
If the COVID-19 pandemic has taught us anything, it's that many employees value the opportunity to work from home. There are many reasons for this, including reducing commute time, having more family time, and simply feeling more productive when working in a comfortable environment.
In fact, a whopping 30% of surveyed employees at Centurion Asset Management had relocated outside of the Greater Toronto Area during the pandemic. They also had, on average, one additional family member living at home. As such, Centurion strongly supports flexible work arrangements, such as the ability to work remotely.
Employees only work two days weekly in the office, with the rest of the time spent communicating with colleagues and meeting deadlines through remote work. Employees also get to choose their own schedules, allowing them more time for family and personal commitments.
4. Flexible and balanced hours
Additionally, we've seen resistance to the traditional 40-hour workweek. Many employees are looking for a more balanced workload and freedom to leave work early on occasion. Work-life balance has become a major priority in recent years, and employers who offer flexible working hours can attract top talent.
Employees at the Town of Innisfil can choose from various work schedules. They can choose flexible start and end times if they need to pick up their kids from school or run personal errands. Another option is the shortened workweek, where employees work four days per week and take off the fifth day for personal commitments. In this case, they may see their pay reduced.
The compressed workweek is a popular choice for employees, as it allows them to complete the same amount of work in fewer days. Lauren Small, the people and talent leader at the municipality, strongly advocates these options.
"COVID has changed the nature of work with 'where we work' being one of those examples of Innisfil taking an agile approach, with a plan for continuous feedback for a variety of flexible work arrangements, including a hybrid model," she says.
5. More paid time off
Finally, employers should also consider offering more paid time off. Many employees value paid time off as an opportunity to rest and recharge. This is especially true for front-line workers, who often have hectic schedules or demanding careers. Earned days off are a great way to show employees that their contributions are valued. They incentivize employees to work hard and help the company achieve its goals.
Self-funded leaves are also becoming the norm.
Employee benefits
Not long ago, it seemed like benefits were an afterthought for many companies. They were reserved for executives or highly-paid employees. However, times have changed, and many workers now expect to have a range of benefits available to them. As early as the onboarding process, candidates want to know what perks and benefits come with the job.
In fact, 65% of employers use retention bonuses to keep employees, while 81% offer sign-on bonuses to attract talent. Additionally, we can find the following benefits in many workplaces:
6. Performance-based incentives
As the name suggests, performance-based incentives are awarded to employees for their outstanding work. They could be in the form of cash bonuses, salary increases, or promotions. These rewards can greatly motivate workers and increase productivity in the office. Furthermore, they allow employers to create a meritocracy where hard work pays off, and success is rewarded.
The study found that 74% of employees were offered reward and recognition programs. The data also shows that companies with this type of program are more likely to have a strong employer brand. Citadel Mortgages is a prime example of a company that values its employees.
The mortgage lender has an extensive performance-based incentive program that rewards workers for their hard work and dedication. The company's reward system includes travel rewards, hotel gift cards, and vacation packages. These benefits help to attract and retain top talent, making Citadel Mortgages a great place to work in 2022 and beyond.
7. Retirement plans
In recent years, many workers have begun to prioritize their retirement savings. The rising life expectancy and the growing cost of living have made it essential for people to save for their golden years. That is why employers should consider offering retirement plans. These benefits give employees peace of mind, knowing that they will be financially secure in the future.
Following their boost of benefits, Citadel Mortgages also adjusted their retirement plan. According to Tristan Kirk, principal partner and managing broker at the company,
"We made a retirement platform that pays on their business as they transition into retirement; and when they die, it pays for two years to the beneficiary on the book of business."
8. Health & Wellness
The pandemic shone a spotlight on the importance of mental and physical health. As a result, many employers have started focusing on these areas and offering a variety of wellness programs. According to RBC insurance, support for mental health is the top benefit demanded by employees, with 88% of respondents citing it as the most important.
It's not an optional benefit, either. The same study found that 73% of employees 13-34 years of age were ready to leave their current job if they found an employer offering better benefits. The 35-44-year-old group showed a similar trend, with 69% of respondents ready to make the switch. [3]
9. Professional growth and "upskilling"
Finally, companies need to offer their workers various training and upskilling opportunities. Workers want to feel fulfilled in their jobs and are more likely to stay with a company that invests in their future. Of course, it all starts with company values. Green initiatives, corporate social responsibility programs, and diverse hiring are all values that workers care about.
However, they also want to continue learning and developing their personal skills. The Willis Towers Watson study found that 55% of employers were increasing training opportunities for their workers. This number will likely increase in the coming years as companies look for ways to keep up with the changing job market and evolving technology.
10. Open-door policy
When it comes to change, employees are often more receptive when it comes from a collaborative effort. Companies must adopt an open-door policy where employees can voice their concerns without fearing punishment or reprimand.
For example, Centurion Asset Management uses TinyPulse. The anonymous feedback tool allows employees to give feedback and suggestions about their jobs. Laura Salvatore, vice president of human capital in Toronto, can then view all the feedback and address employee concerns.
Conclusion
Employers need to prioritize the well-being of their workers if they want to remain competitive in the job market. Compensation and benefits are still meaningful, but today's workers care about much more than money. They want to feel valued and supported by their employers, so companies should focus on the big picture.
By implementing these strategies, businesses can become a great place to work in 2023 and beyond.
---
Pivotal's HR Solutions team can help you frame and manage a top HR plan and policies for 2023. Contact Pivotal:
Sources
[1] "Best Places to work 2022" HRReporter
[2] "North America employers rethinking work and reward programs to address labor shortages, inflation worries, WTW survey finds" WTW press release
[3] "Three-quarters of young Canadians more likely to leave their current job for one with better benefits" from an RBC Insurance Poll, RBC Blog.