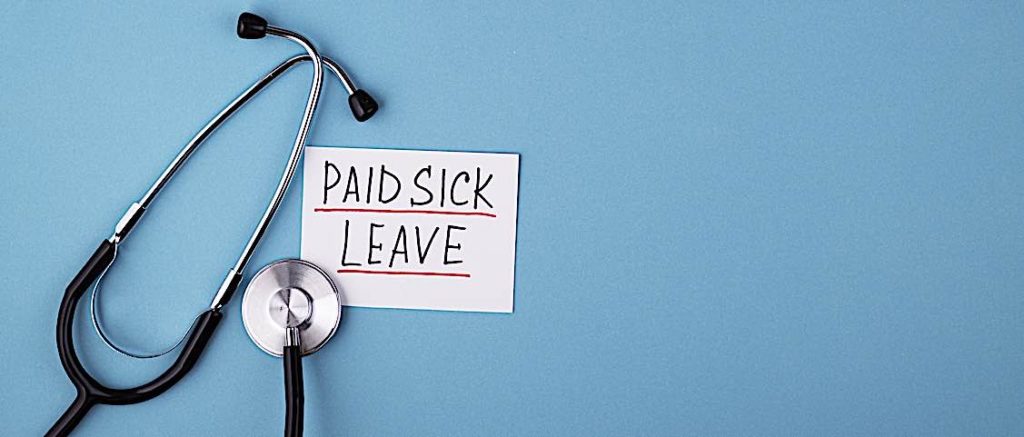 HR News: Federal Government sets start date for 10-day paid sick leave
One thing that the pandemic made painfully clear is how unprepared we are as a country to deal with any sort of widespread health crisis or even just a few sick people in the workplace at a time.
Workers have sometimes been forced to choose between coming to work sick or with symptoms and putting others at risk or staying home and losing income they can't afford to live without.
Many countries have taken this as a chance to rethink their national policies to support workers through health care challenges, and Canada is no different.
That's why one of Justin Trudeau's electoral promises was to introduce 10 days of paid sick leave for all workers within the first 100 days of his government, and it looks like his government is taking steps towards that goal.
In a virtual meeting between Seamus O'Regan Jr, Canadian minister of labour, and his provincial and territorial counterparts on June 28th, he shared that the federal government would be moving ahead with its plan to introduce the 10 days of paid sick leave for some workers before the year ends.[1]
The changes to the benefit would be introduced as an amendment to the Canada Labour Code. They would apply to federally regulated employees in sectors such as banking, telecommunications, and transportation.
O'Regan Jr. confirmed that the legislation would come into effect before December 1st, 2022 and that discussions were ongoing to expand the legislation to cover all workers in Canada.
Support for paid sick leave
This legislation has been a long time coming, and it's an essential step in protecting the health and safety of workers across the country.
In May 2020, when Prime Minister Justin Trudeau promised to introduce paid sick leave for all workers as a part of his government's response to the COVID-19 pandemic, he stated that no worker should have to choose between staying home when sick and being able to pay their bills. [2]
After the election, Trudeau has received pressure from various sectors to deliver on this promise quickly, as the pandemic continues to cause uncertainty in many provinces.
A month after Trudeau won his re-election bid, health workers were already urging the government to act on this promise. Canada was lagging behind other countries in its response to the pandemic. [3]
And in November 2021, a group of over 30 employers across Canada also called on the government to take action to introduce paid sick leave in an open letter to Trudeau.
Some of the businesses in the group from Ontario, Alberta, Newfoundland and Labrador, British Columbia and Quebec already offer their employees some form of paid sick days. Still, they said a national standard is needed, both as an essential public health policy, but also as a way to boost the economy.
Sick leave during the pandemic
As the pandemic brought the need for paid sick leave into sharp focus, many governments and businesses adapted their policies to support workers.
In April 2021, Ontario passed the COVID-19 Putting Workers First Act 2021 to give workers in the province access to sick days for COVID-19-related absences, including self-isolation. However, they voted down Bill 247, a motion that would require all employers to provide workers with personal emergency leave. [4]
British Colombia also moved to give all workers in the province up to three days of paid sick leave for COVID-19-related absences. The BC government is now working on a permanent paid sick leave program that will offer three, five or ten days of paid leave per year.[5]
Nova Scotia introduced a law in May 2021 that gave workers in the province up to four days of paid sick leave for COVID-19-related absences. Their COVID-10 Sick Leave Program was projected to help over 100,000 locals, and the government committed to investing $16 million to support it. [6]
Other governments, like Manitoba and Saskatchewan, also introduced or expanded existing programs to offer paid sick days for COVID-19-related absences.
But a report from the Institute of Research on Public Policy (IRPP) suggested that the programs were not sufficient to meet the needs of workers and proposed 15 days of paid sick leave as a standard.
Even as COVID-19 seems to be losing steam, it's evident that the need for paid sick leave is here to stay, beyond the pandemic, and that workers across the country will benefit from this new legislation and any possible expansions to come.
---
Do you HR Management of paid sick leave questions? Ask the experts at Pivotal Solutions
---
Sources
[1]: https://www.canada.ca/en/employment-social-development/news/2022/06/minister-oregan-meets-with-provincial-and-territorial-counterparts-to-discuss-labour-shortages-and-better-support-for-workers-across-canada.html
[2]: https://www.nelsonstar.com/news/trudeau-speaking-to-provinces-will-seek-10-days-of-paid-sick-leave-for-all-canadians/
[3]: https://www.hrreporter.com/focus-areas/compensation-and-benefits/group-of-employers-calls-for-10-days-of-paid-sick-leave/361892
[4]: https://www.hrreporter.com/focus-areas/compensation-and-benefits/group-of-employers-calls-for-10-days-of-paid-sick-leave/361892
[5]: https://www.hrreporter.com/focus-areas/compensation-and-benefits/bcs-paid-sick-leave-for-covid-19-now-in-effect/356512
[6]: https://www.hrreporter.com/focus-areas/compensation-and-benefits/nova-scotia-workers-get-4-days-of-covid-19-sick-leave/356125