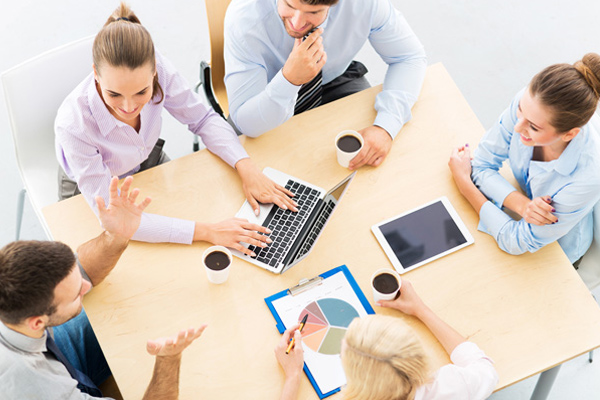 Hiring for Fit – Integrating Contract Workers with your Full-Time Staff
Does your business use a blend of in-house employees and contract staff who are brought in to fulfill certain roles or work on a specific set of tasks? If so, you aren't alone – many organizations find it necessary to bring on temporary workers for a variety of reasons. While you are no doubt working on employee engagement initiatives to retain your permanent personnel, it's also important to consider ways to integrate temporary workers into your unique corporate culture.
Group Hiring
Hiring temporary employees to fit in with your organization is more complicated than scanning resumes or agency offerings and then making a hiring decision based solely on technical qualifications. You've specifically chosen permanent personnel for your company based on both background and personality – you can use that same process in hiring for fit with temp employees.
One great way of determining if a contract employee is the right fit for your company is engaging an entire group in the hiring decision. This doesn't mean that everybody has to vote unanimously before someone is brought on. Rather, gather the group of people who will be working with these temporary new hires and engage them in the process by asking for feedback or interview scoring input. Your employees know the traits in others that best suit their own needs – give them a chance to express that and you'll find temp workers who can seamlessly slide into your organization.
Our feature continues below contact form…
Do you have a question about hiring for fit or other permanent recruiting questions?
Permanent Contact Us Form
Feature continues….
Office Geography
Once your best-fit temp worker is identified, it's time to bring them in-house.
Too many organizations cluster temporary workers into a tiny conference room or empty cluster of cubicles, leaving contract personnel literally separated from other employees. How engaged and included could a temp worker possibly be when they aren't even near people they may be working with while on site?
Make an effort to actually locate a contract employee within the group of permanent employees with whom they will be working. Or – if this isn't possible – think about picking the key in-house workers and having them join the temporary employees wherever they will be located.
Who's Who?
Another important early step to integrating temp workers with your organization is by ensuring they have met the key players with whom they will be working. But the success of this step depends on more than just a first day introduction to a group. How many people's names and backgrounds would you remember from day one introductions? Not many, probably.
A great way to ensure a new hire knows who's who is through a mix of shared organizational charts and access, perhaps, to the company intranet or social media site. The former enables the temp worker to know who to contact for which areas of expertise while the latter humanizes coworkers and gives insight on how best the temporary employee might approach and engage with permanent personnel.
Inclusive, Not Exclusive
Finally, you can better integrate contract employees with your full-time staff by ensuring that your company culture is one of inclusivity, not exclusivity. Celebrating an admin's birthday? Invite your new staff. Having a project update meeting? Have the temp worker sit in. Organizing a group of employees to head to a working lunch? You know what to do. There are a million different ways that you can open the door to temporary employees through inclusive planning within your organization.
Now – are you ready to find some great temporary employees to tackle important tasks within your organization? Keep this handy reminder guide on hand and get ready to hire great people.