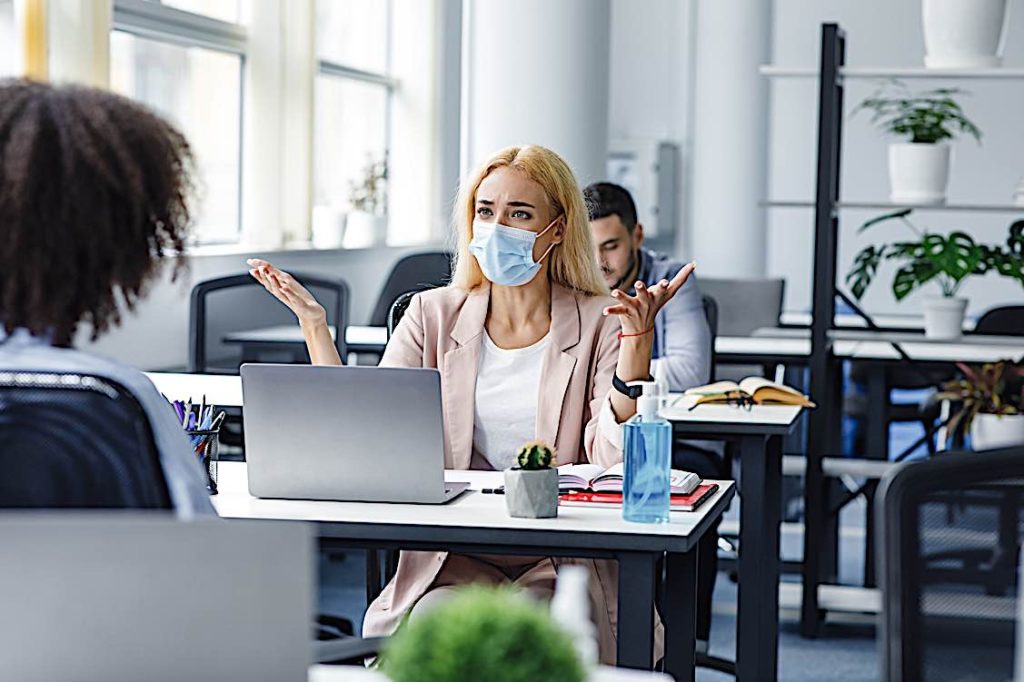 HR Management — Inevitable Conflicts Over Masks in the Workplace: What To Do
Currently, masks are optional for much of Canada, as provinces ease their mask restrictions — and up to 90% of the United States according to CDC. Even Ontario has lifted mask mandates in most public areas, with some notable exceptions  [See Appendix 1 and 2 below.]
Most workplaces — with notable exceptions — are now optional, although there is accommodation for employers to set their own policies. Many people in Ontario continue to wear masks, including a majority of students in schools.
Workplace Masking Trends
In workplaces, the trends aren't as obvious, although Human Resource Managers and outsourced HR Managers will have to be vigilant and flexible in managing morale and fears in the workplace — especially given the "great exodus" in the workplace that occurred during the pandemic.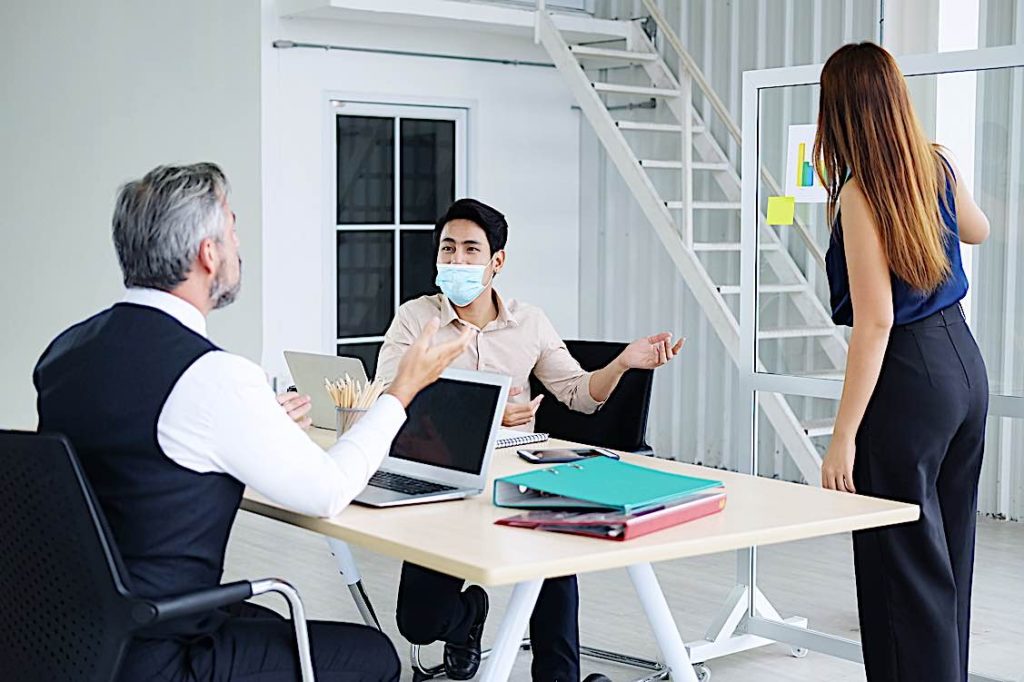 On March 3rd 2022, The Centers for Disease Control and Prevention said more than 90% of the US population currently lives in a county with a low or medium COVID-19 Community Level.
The Community Level is a new CDC measure for communities considering whether to require masks in public indoor settings. The CDC plans to update the data every Thursday.
Division in the Workplace: Mask / No Mask?
This news may help ease the return to the workplace. However, it may also create a division in the workplace between those who want to wear masks and those that don't.
Fortunately, there are ways to manage any conflicts that may occur related to this issue. Keep reading to learn more.
What Types of Conflicts May Arise in the Workplace Between Workers Over Masks?
There are various conflicts that may occur between workers over mask usage. Some employees may report others who fail or refuse to wear their masks.
Some people who'd like everyone to be wearing masks in the workplace may refuse to come into the office if others aren't wearing face coverings.
There may also be some staff members who refuse to get vaccinated but want to challenge an employer's authority to require face masks.
---
Do you have questions about the new guidelines, or how to manage potential conflicts in your workplace? Ask the HR Management experts at Pivotal:
---
What Should HR Managers and Employers Do To Avoid Conflicts?
Focusing on safety and respect can help employers avoid conflicts and stop them from escalating in the workplace.
Requiring face coverings in the workplace may be a safety policy of a company. Allowing exceptions to the safety policy for fully vaccinated employees may be a fair policy to maintain a safe workplace.
A culture of respect in the office means employees respect their coworker's choices even if they don't align with theirs.
Employees should be encouraged to follow the employer's safety policies to protect themselves and their coworkers. This helps everyone in the workplace feels comfortable.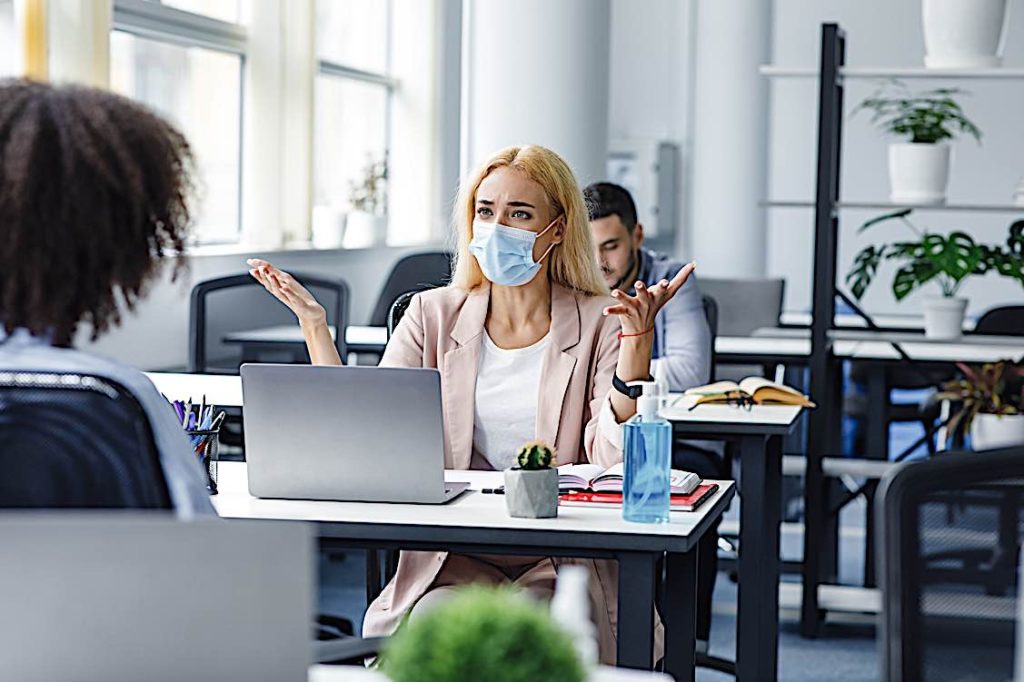 How Might HR Managers and Employers Respond to Conflicts?
If a mask-related conflict occurs, a quick response focusing on mutual respect and company ethics and policies surrounding interactions between coworkers may help employers address disagreements.
It may be a good idea to encourage all employees to remember that we may not always know why people decide to wear a mask or not. For example, some people may have a loved one at home who cannot get vaccinated or small children who aren't eligible for a vaccine yet.
Or someone may not be able to get vaccinated because of medical reasons.
On the other end of the spectrum, some people may not need to wear a mask due to medical reasons.
As more and more people become vaccinated and employees become more used to working without masks, conflicts are likely to subside.
If employers focus on maintaining a respectful workplace and people get used to this new hybrid work environment, disagreements will decrease.
Meanwhile, employers should focus on maintaining a respectful and calm workplace. They should act quickly when any disagreements occur.
Ontario Appendix 1
Where you are allowed to remove your mask as of March 21, 2022
Schools
Restaurants
Bars
Grocery stores
Banks
Gyms
Movie theatres
Pharmacies
Convenience stores
Libraries
Ontario Appendix 2
Where you must continue wearing masks as of March 21, 2022
Public transit
Hospitals
Medical clinics
Long-term care homes
Congregate care settings, such as shelters and jails
NOTES