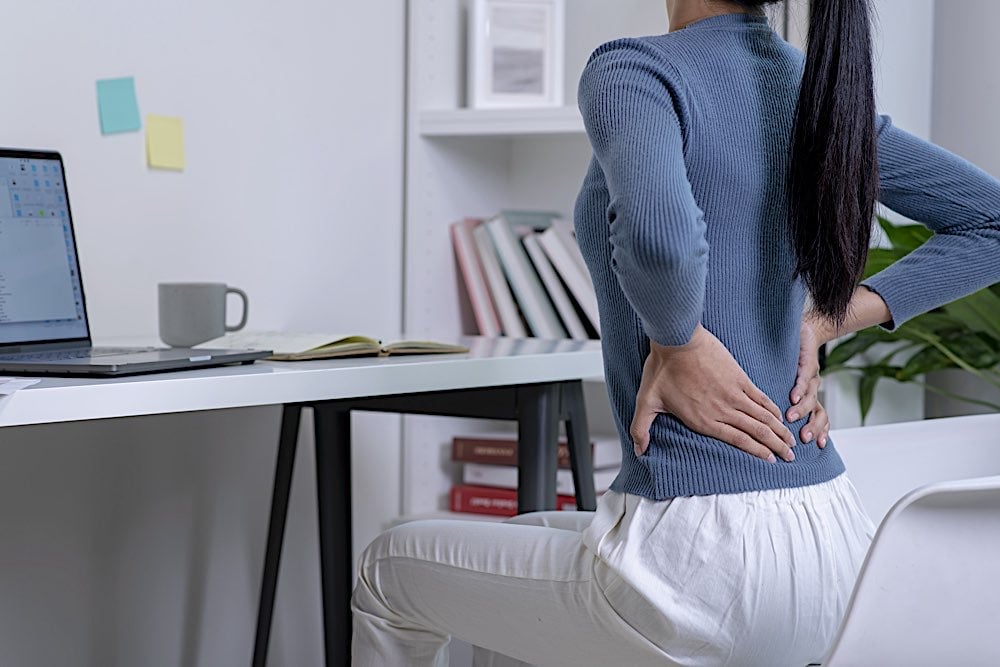 How Remote Working Has Affected Musculoskeletal Health Issues and What to Do About It
Remote working comes with a lot of perks; no commute, the possibility of a better work-life balance, increased ease to make healthier lunches. However, the abrupt shift to remote working meant that most people had to create makeshift offices at home or work in spaces that weren't designed to be worked in. This has meant a significant rise in musculoskeletal issues.
According to a 2020 survey published in the International Journal of Environmental Research and Public Health, 41% of remote workers said that they experienced lower back pain and 23.5% reported neck pain. While 47.6% of respondents stated that their lower back pain didn't worsen after switching to working from home, 50% of respondents said that their neck pain did. [1]
Home workers who did report some form of musculoskeletal pain and worked from home noted that they had lower job satisfaction.
What is causing these musculoskeletal issues?
"One of the advantages of working in an office is having an ergonomic setup," said Dr. Ayla Azad, interim chief executive officer of the Canadian Chiropractic Association. "But people aren't moving enough as it is. We sit way too long. And then you add the complexity of a work-from-home environment and it's a recipe for disaster. We're seeing an increase in neck and back pain, repetitive strain injuries like carpal tunnel — all sorts of problems related to working from home." [2]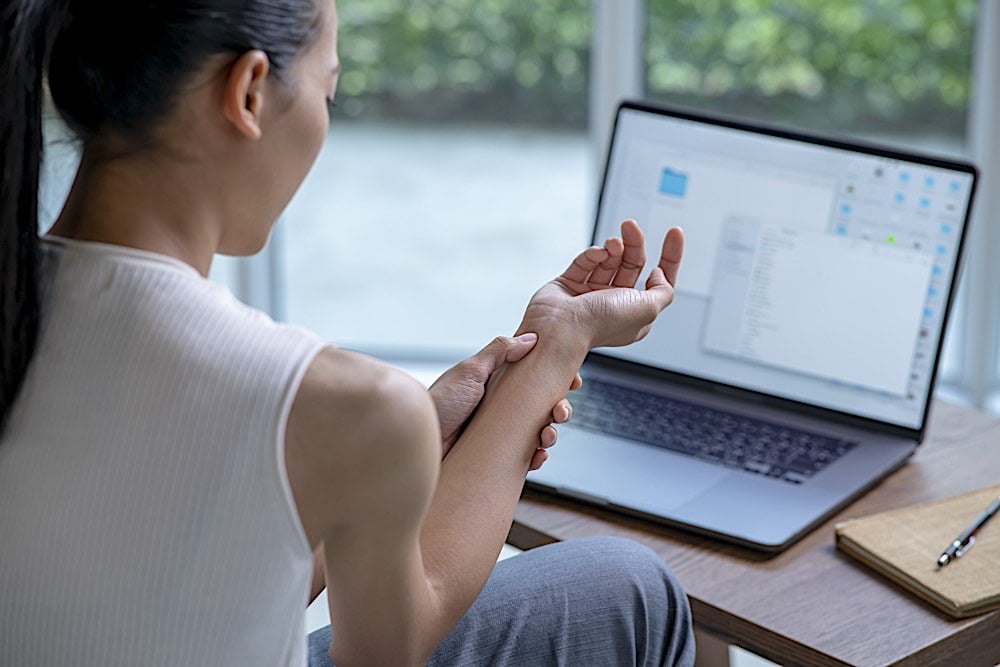 She said that these problems aren't just due to the awkwardness of the makeshift offices that people create for themselves, but it's also a lack of thought about things like posture.
The vice president of total rewards at CAA Club Group, Mara Notarfonzo, also noted that during the early days of the pandemic and the change to remote work, people were just looking for a suitably flat surface to work on. This isn't necessarily good for musculoskeletal health.
She said, "as we've moved to a more remote workforce, my concern has been how to continue to educate our employees and provide programs and services to make sure we meet their needs — not just in the present, but looking at their long-term overall health as well." [3]
Sitting for extended periods of time poses a number of issues. These include weak legs and glutes, weight gain, tight hips and a bad back, anxiety and depression, increased cancer, diabetes, and heart disease risks, and more. [4]
Sitting can also increase preexisting pain, as it tightens the hip flexor and hamstring muscles as well as stiffening joints. Tightening these muscles affects balance and gait, making mundane activities such as walking harder. It can also affect lower back pain and knee stiffness, meaning even more musculoskeletal issues. [5]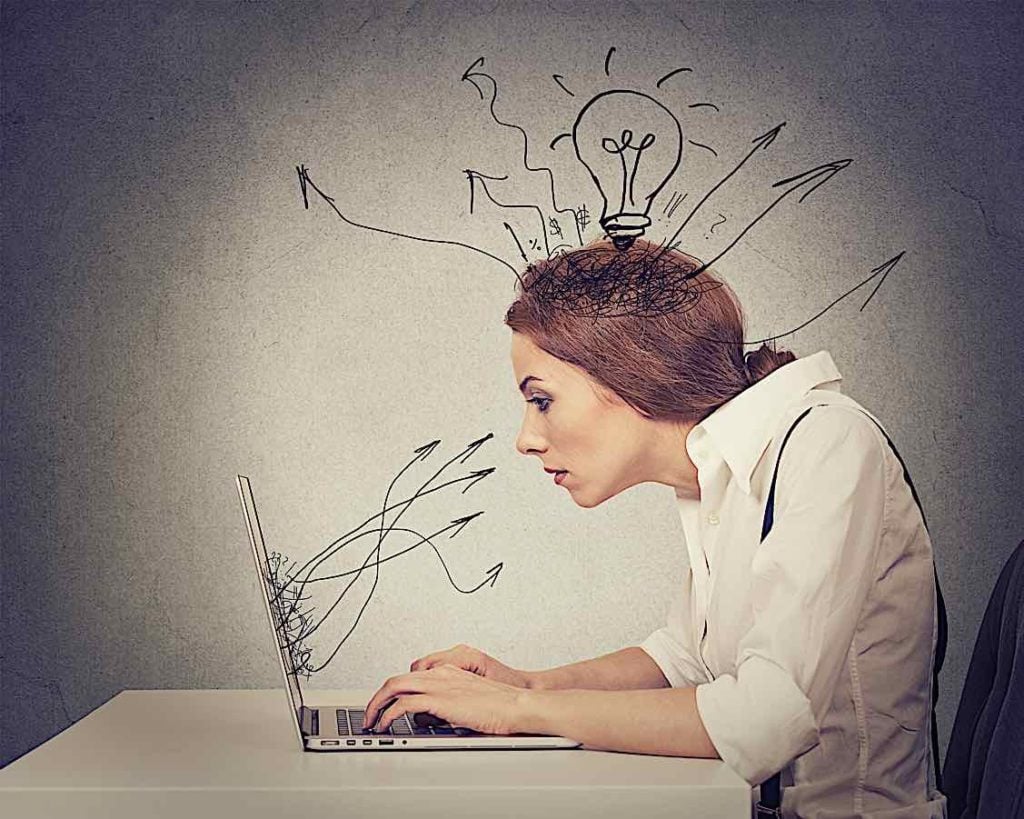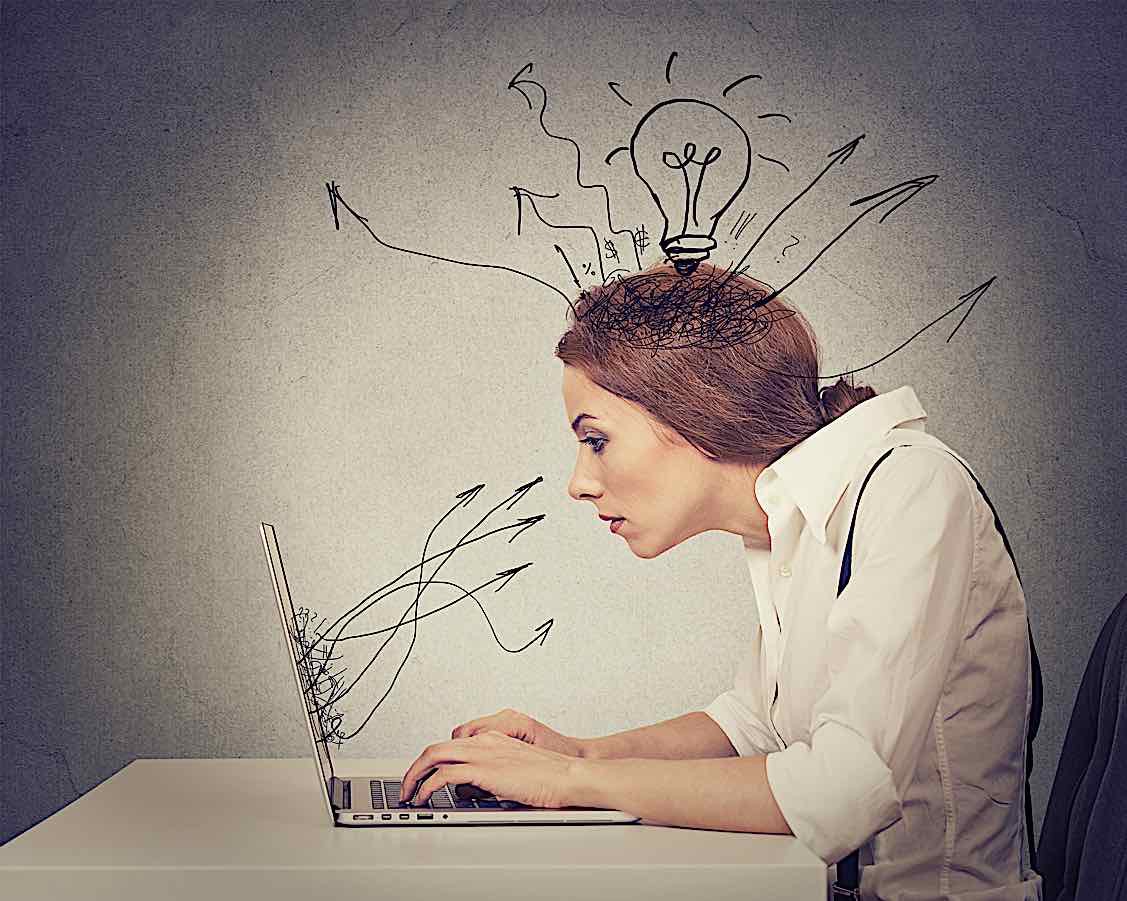 Employers must be the ones to address musculoskeletal issues
Azad and Notarfonzo stated that education from employers must be the focus when it comes to preventing musculoskeletal conditions caused by working from home.
"Education involves making employees aware of what a good desk setup looks like [and] what equipment should be used," said Azad. "People seem to forget the laptop wasn't designed for prolonged use; it was designed for travel, but [almost everyone uses one for work]. When you think about how small the keyboard is and how you have to lean in, it's not ideal for long periods of time." [6]
Industry recommendations about posture and how deeply it impacts daily life have changed though, Azad noted. This is why chiropractors don't peddle the old narrative of standing up straight and pushing your shoulders back.
"What we're finding now is your body is strong, your spine is strong, so you can sit and turn in different ways. It's not so much that you're sitting in a certain position, the problem is sitting in one position for too long. It's the prolonged nature of posture that's going to hurt. The key is movement, you've got to keep moving. So employers should really encourage their workforces to get up every so often and move around." [7]
At CAA, one of Notarfonzo's missions is to educate continuously on office ergonomics and musculoskeletal conditions. She said, "we want to incorporate that education into our communications strategies throughout the year and make it relevant. It's as simple as stepping away from your desk and stretching. This is really important because, in the long run, if steps aren't taken, it will translate into disability claims and decreased productivity." [8]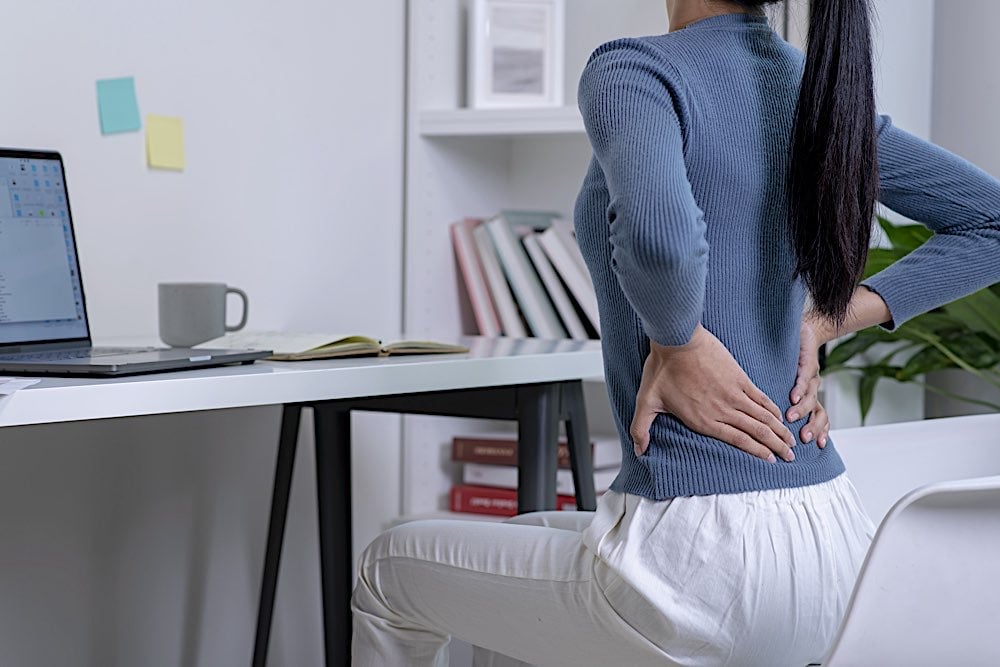 How to best address musculoskeletal issues
Dr. Azad said, "employers are facing a shadow pandemic of chronic illnesses and MSK conditions because of this shift towards hybrid and [remote work] policies. I always say this to my patients — motion is lotion, we need to get out of this rut and get moving again, it really is critical for our health." [9]
Azad observed that one of the best ways to address musculoskeletal issues is prevention and early intervention. When a person feels that something isn't right, they should immediately see a chiropractor to fix their issue before it gets worse. This is also why it's so important for employers to inform their employees about the benefits and resources available to them, as well as making those things easily available and accessible.
She noted that back pain is one of the commonest reasons that people are prescribed opioids. Referencing Canada's opioid crisis, she said, "if that could have been prevented in the beginning, people wouldn't experience the trajectory to a highly addictive pain management medication. Also, you're paying for a very expensive drug instead of a paramedical service, which is much cheaper in the long run and can prevent more issues in the future." [10]
Recovery through rehabilitation
Rehabilitation is also important. "The buzzword for 2022 is going to be recovery and you can't have recovery without rehabilitation. Now is the right time to keep these paramedical benefits front and centre and encourage employees to utilize them as part of their recovery and rehabilitation journey," Azad stated. [11]
There must also be a workplace musculoskeletal strategy, she said. "Every workplace has its own unique factors which affect MSK conditions for its employees. We strongly encourage employers, [human resources] professionals and benefits advisors to start these conversations around implementing strategies to improve workplace MSK health. Having an MSK workplace strategy can mitigate absence of disability costs and greatly improve the health well-being and productivity of employees." [12]
Azad added that there is also an intersection between musculoskeletal issues and other areas of wellbeing such as mental health. Employers must extend conversations around musculoskeletal conditions to include how it can impact every aspect of life.
The key takeaway for employers is to have a comprehensive approach to the problem. To begin with, coverage must be adequate, centred around patients, and based on evidence. Dr. Azad stated that "according to the Benefits Canada Healthcare Survey, 31 per cent of employees did not give that coverage a passing grade. We know employees rely on [paramedical] benefits to access much needed care, especially when it comes to MSK conditions."
She notes that chiropractic care is as essential a paramedic benefit as any other, and that it has many long and short-term benefits.
Leadership support is crucial
It's also important to have clear leadership support and ensure that every employee understands why it's so important to invest in their musculoskeletal health, as well as how to access care through their work. [13]
And of course, while rehabilitation and early intervention are key, employers must help their employees to prevent issues from cropping up in the first place. This involves both education and ingraining practices into workplace culture.
Preventing musculoskeletal issues when working from home can be relatively easy. Some ways to do so include:
Giving employees every opportunity to make the remote working setup as ergonomic as possible, such as by having a separate keyboard, screen, and mouse.
Letting employees know that they can (and should) take calls standing up or walking.
Job task variety and short gaps between meetings.
Encourage breaks every thirty minutes to move.
Getting some fresh air via daily walks. [14]
Sources
[1]
Characterization of Home Working Population during COVID-19 Emergency: A Cross-Sectional Analysis
[2] [3] [6] [7] [8] [10]
Benefits Canada – How remote, hybrid working arrangements are affecting musculoskeletal issues
[4]
Healthline – 10 Things that happen when you sit down all day
[5]
Harvard Health Publishing – The dangers of sitting
[9] [11] [12] [13]
Benefits Canada – 2022 BPS coverage: How employers can combat the rise in musculoskeletal conditions
[14]